This article was first released on TMTPost (钛媒体), a Chinese media/news outlet focusing on technology, media and telecom industries on April 27, 2018 in Mandarin. This is the translated version of the news article.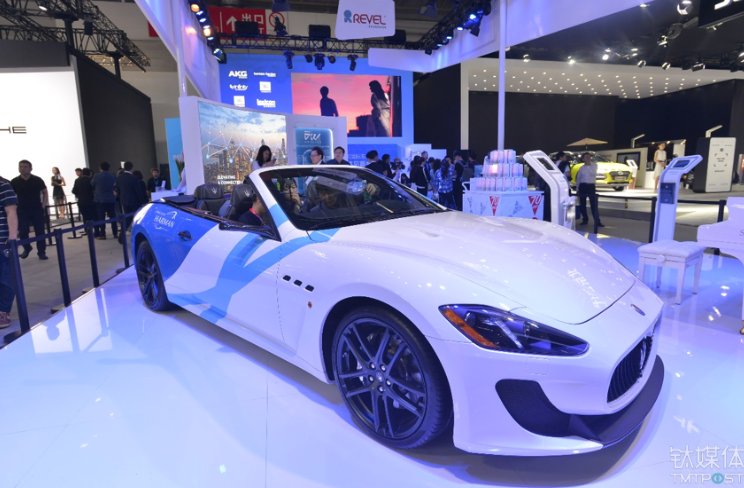 When the automobile is seen as a mobility tool with more intelligent and connected attributes, developing a model with premium experiences is no longer simply the business of automobile manufacturers. A growing number of technology companies and suppliers are beginning to shift their mindset, adding more internet-enabled features and experiences.
During the 2018 AutoChina 2018 Show in Beijing, a unique Maserati car was showcased at Pavilion E4 in Harman's booth. Unique features of this car adopted Harman's latest "intelligent cockpit" solution based on Intel's innovative technology, a result of the three-parties' collaboration.
Harman's new-generation "intelligent cockpit" uses a large QLED screen that extends from the center of the vehicle, all the way to the front passenger door. Though not as big as the 64-inch screen demonstrated by Byton, the point is–this suite of the solution developed by Harman allows customization for the needs of drivers and passengers.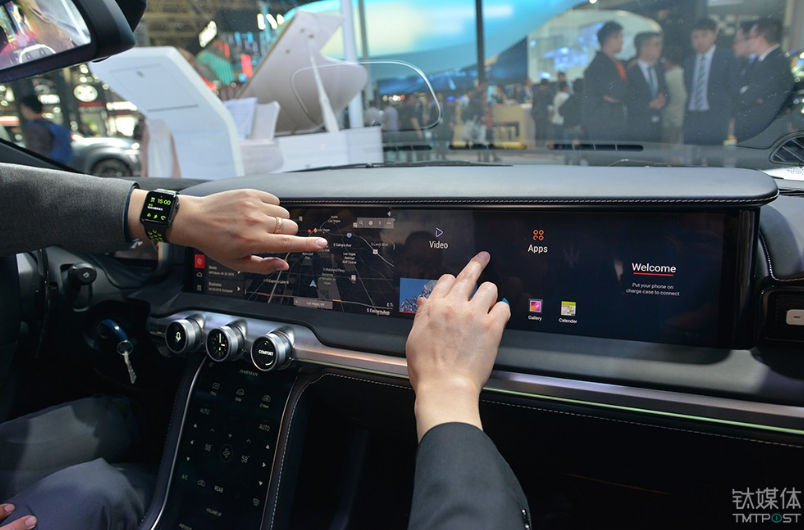 The large QLED screen that extends from the center of the vehicle, all the way to the passenger door
In specific driving scenarios, two users are able to use separate screens without affecting each other. For example, when the driver is using it to access navigation features, the passenger is able to simultaneously use it to access entertainment features such as watching a movie or playing games, without occupying the same screen, which is very convenient.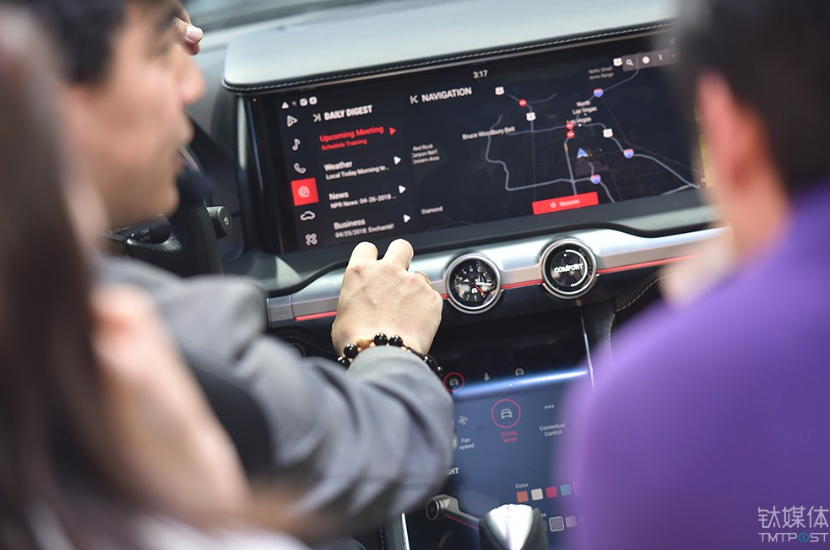 Knob switch with embedded OLED screen
The interactive design includes three centrally located knob in the center console to control the functions of air temperature, time, and access to voice assistants respectively. Each knob switch features an embedded OLED screen that displays the desired function. Nowadays, the physical keys for interactive interfaces of automobiles are giving way to an increasing number of virtual ones.
Additionally, this control system comes with a curved OLED screen located just below the dashboard, allowing users to have access to A/C controls, driver settings, and other various vehicle options.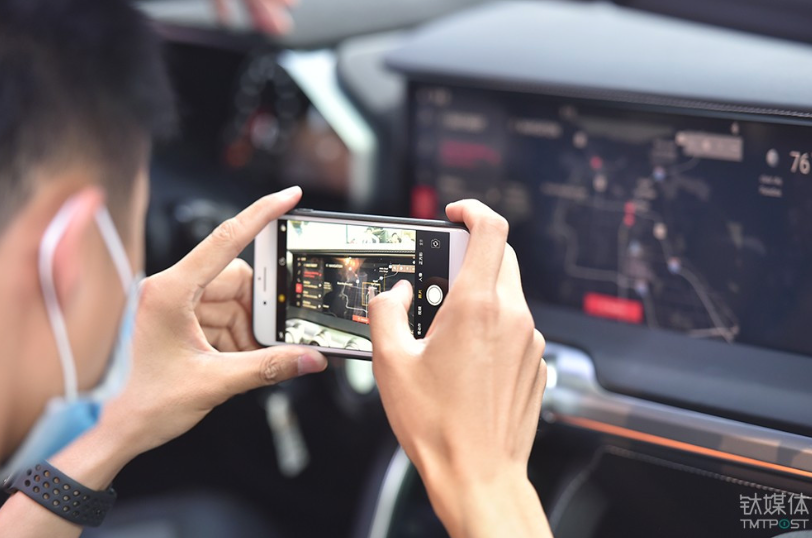 A close up of Haman intelligent cockpit based on Intel chip
From a technical perspective, Haman's new generation of "intelligent cockpit" demonstrated on the Maserati model is powered by the Intel® Atom™ processor Apollo Lake and the virtualization software, ACRN.
As a processor designed specially for car experiences, Intel® Atom™ processor Apollo Lake features powerful computing power and workload integration functions, and multiple high definition video output interfaces. The processor can support in-vehicle infotainment system/cockpit experience, a digital instrument cluster, rear-seat entertainment and advanced driving assist system;
ACRN is a flexible and lightweight virtualization software recently unveiled by Linux Foundation. With most of the engineering and code contributions from Intel, the project caters to the use case of automobile products. ACRN is positioned for efficient real-time and safety-critical features and allows continuous optimization of functional design through an open-source platform.
ACRN is comprised of two main components: the hypervisor software and its device model, which support the sharing of a broad range of I/O devices. Intel's rich experience in virtualization technology played a critical role in the initial development of this hypervisor solution.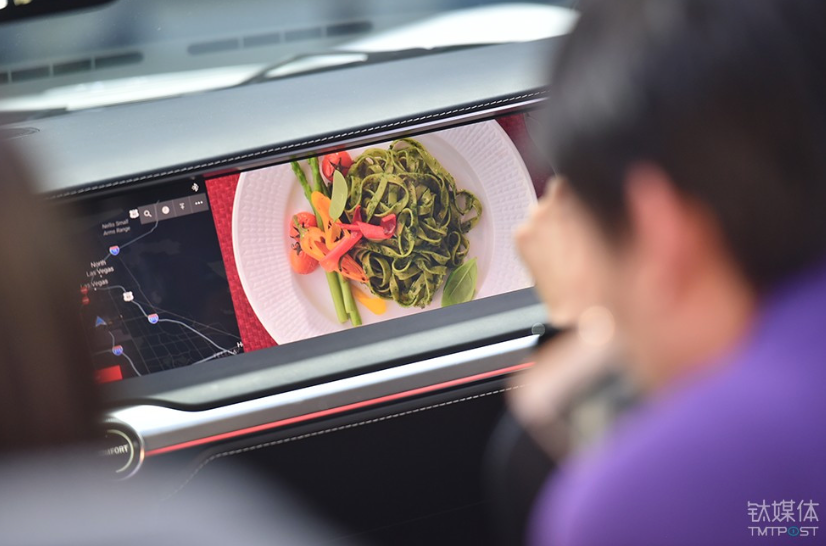 In the transformation of future mobility, Intel has accurately judged the market direction of intelligent cockpits, introduced appropriate product planning, and joined hands with a number of world-renowned companies such as Tesla, BMW, GM, FCA, Toyota, as well as Neusoft and SAIC in China to co-develop intelligent cockpits and other platform technologies, as well as modular automotive-grade products.
In addition, to accelerate the application of intelligent technologies to automobiles, Intel has partnered with multiple Tier 1 suppliers of auto parts and OEMs in China. Intel's broad and abundant market resources, will undoubtedly speed up the timetable for mass production.
Harman and Intel will play their respective roles in promoting the localization of "intelligent cockpits". It is reported that Haman's new-generation "intelligent cockpit" has been gradually adopted by local Chinese car manufacturers.