On January 6th, ADLINK announced that their ROScube-I ROS 2 controller, powered by Intel technology, is one of the first robotic controllers to support ACRN™ real-time hypervisor. The ACRN community congratulates the ADLINK team on this important milestone that allows mixed real-time and application workload consolidation on a single Edge platform.
ACRN is a flexible, lightweight reference hypervisor that optimizes and streamlines embedded development through an open-source platform. Built with real-time safety in mind, ACRN defines a device hypervisor reference stack and an architecture for running multiple software subsystems (as shown below), managed securely on a consolidated system using a virtual machine manager (VMM). ACRN hypervisor takes advantage of Intel Virtualization Technology (Intel VT) and supports User VM and Service VM to run a User OS and Service OS, real-time VM (RTVM), and is designed to run a real-time OS, such as Xenomai. Because of its real-time capability, RTVM can be used for soft programmable logic controller (PLC), inter-process communication (IPC), and robotics applications.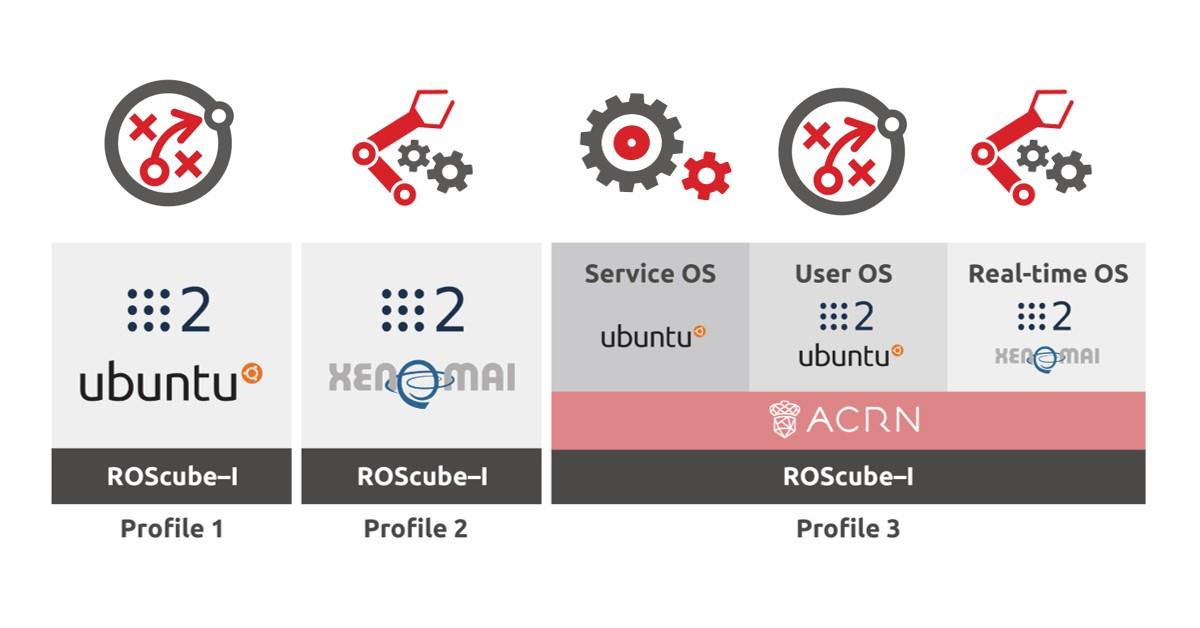 Read more about getting started with ACRN on the ADLINK ROScube-I in the ACRN documentation: https://projectacrn.github.io/latest/getting-started/roscube/roscube-gsg.html
"ADLINK's adoption of ACRN is a great testimonial to the maturity of the project, as an open-source real-time hypervisor for the most demanding applications," said Eddie Dong, Project ACRN's architect and maintainer. "The collaboration between ADLINK and Project ACRN has been a true win-win situation; using ACRN hypervisor to consolidate heterogeneous workloads brings added value and unleashes the computing power of the ROSCube-I platform. It puts ACRN at the heart of a commercial solution for industrial customers."
"Virtualization is especially important in industrial environments because of device and application longevity. Virtualization enables factories to modernize their robot control system hardware by using VMs to run older control systems and operating systems far beyond their intended retirement dates," said Dr. Ryan Chen, Director of the Advanced Robotic Platform Group at ADLINK. "Our customers can leverage this technology on our ROScube-I controller, for example, to run human-machine interfaces (HMI) in User OS, run artificial intelligence (AI) in Service OS and leave some compute function running on soft programmable logic controllers (PLC) that require hard real-time characteristics. This gives customers the ultimate in future-proof flexibility and reliability, allowing them to scale up development."
"Robotic controllers based on Intel hardware and software platforms enable flexible, reliable and scalable solutions for some of the most advanced robotics applications. Real-time hypervisors, Intel Distribution of OpenVINO toolkit and Intel architecture make it easy to integrate data, devices, and processes while improving operational efficiency. Intel and ADLINK are both active contributors to the ROS 2 community and it is great to see this work in action," said Brian McCarson, Vice President, Internet of Things Group at Intel Corporation.
Check out the ADLINK full press release for more details: https://www.adlinktech.com/en/News/ADLINK-ROScube-I-ROS-2-controller-now-with-ACRN-real-time-hypervisor