Embedded World 2020 is a wrap. This year the ACRN hypervisor and Zephyr RTOS were demonstrated together in Canaonical's Ubuntu booth.
Since ACRN's start in 2018 as a Linux Foundation project, the ACRN team focused on developing a hypervisor that is flexible, lightweight, open-source, and built with real-time and safety-criticality in mind. The Zephyr RTOS, another Linux Foundation project, strives to deliver the best-in-class RTOS for connected, resource-constrained devices and is built to be secure and safe.
Canonical took advantage of this unique set of capabilities in open source projects by demonstrating single-system mixed workload consolidation based on Zephyr, Ubuntu, and ACRN. The Zephyr RTOS runs specialized tasks requiring real-time capabilities or integrating functional safety modules, while Ubuntu is the rich Linux operating system running other non-real-time workloads. The ACRN hypervisor provides the isolated virtual machine environment, concurrently supporting both workloads.
The architecture of Canonical's demo is depicted below. The Zephyr RTOS is running in a pre-launched Virtual Machine (VM) completely isolated from Ubuntu, so any workload crash or even a reboot of the Ubuntu VM will not disturb the tasks running in Zephyr.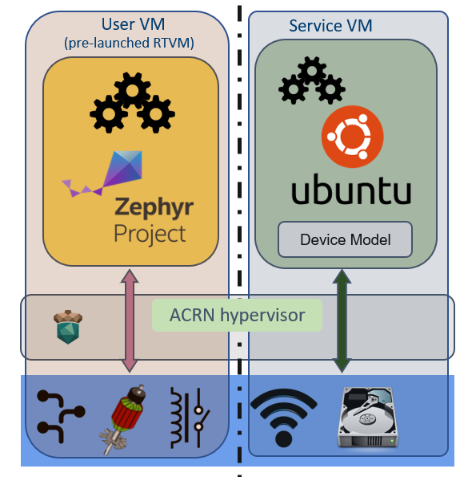 Visit Canonical's blog for more details on their Embedded World 2020 demo.