2018云栖大会·深圳峰会上周在大中华喜来登举行,在大会上阿里巴巴展示了阿里云在云计算、大数据、人工智能、物联网领域的技术和产品,并且分析了这几项技术的发展趋势。阿里云总裁胡晓明表示:"过去20年的互联网是'人联网',未来20年的互联网是'物联网'。互联网的上半场是将人类活动数字化,比如电商、社交、文化娱乐等,由此催生了今天蓬勃发展的互联网市场,这背后是全球40亿网民。互联网的下半场是将整个物理世界数字化,道路、汽车、森林、河流、厂房……甚至一个垃圾桶都会被抽象到数字世界,连到互联网上,实现'物''物'交流,'人''物'交互,这会是一场更加深刻的技术变革,一场全新的生产力革命。"
2018 YunQi Conference Shenzhen Summit was held last week at Sheraton Shenzhen. Alibaba showcased their technology and products in the field of Cloud Computing, Big Data, AI and IoT, and gave an analysis on the trend of these technologies. Mr. HU Xiaoming, GM of Alibaba Cloud said: 'in the past 20 years, the internet has been 'Internet of People'; for the next 20 years, it will be 'Internet of Things'. The first half of the game is to digitalize human activities, such as e-commerce, social, entertainment, etc, thus cultivated today's booming internet market, behind such evolution is 4 billion internet users worldwide. The second half of the game will be to digitalize the entire physical world – roads, cars, forests, rivers, factories… even a trash bin will be abstracted into the digital world and connected to the internet, to achieve 'thing' to 'thing' communication, and 'human' to 'thing' interaction. This will be a more profound technology change, and a brand new productivity revolution.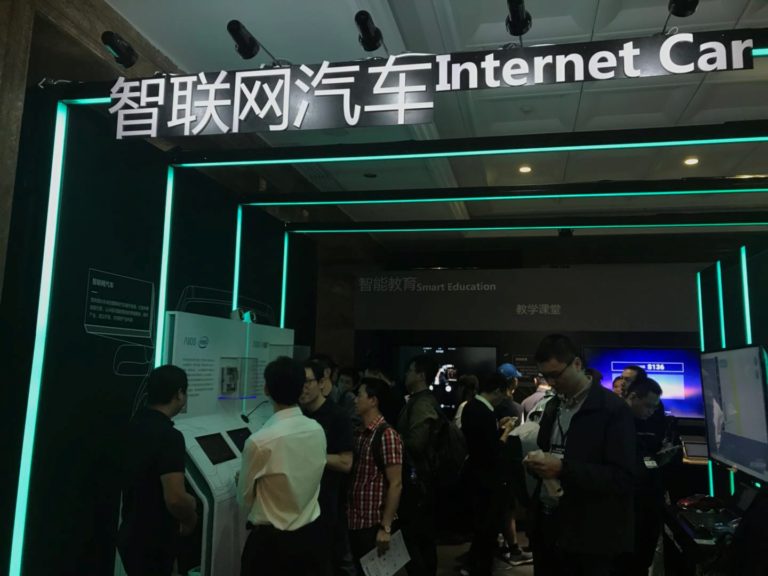 在物联网时代,汽车作为最大的智能终端备受关注,业界将智能汽车视为未来汽车领域的发展方向。在本次云栖大会上,英特尔和阿里巴巴展示了两家公司在汽车领域的优势。此前,英特尔与阿里巴巴强强联手,推出了基于英特尔架构和AliOS的下一代电子座舱解决方案,旨在为汽车厂商和一级供应商提供满足系统整合需求的软硬一体多样化选择以及丰富本地生态,加速产品开发进程和持续创新。
In the Internet of Things era, automobiles, as the largest smart terminal have drawn great attention. The industry sees smart/connected cars as the future direction of automotive development. On this YunQi Conference, Intel and Alibaba demonstrated their leadership in this area. Recently, the two companies had joined forces and launched the next generation e-cockpit solution based on AliOS and Intel architecture, aiming for providing automotive manufactures and tier-1 suppliers with diversified options for hardware-software integration meeting the demands for system integration, and to enrich local ecosystem and accelerate product development process and continuous innovation.
英特尔为汽车应用配备了强大的硬件平台和软件平台,其中全新一代车规级芯片家族Apollo Lake具有强大的计算力和负载整合功能并具有多个高清视频输出接口,满足下一代电子座舱需求;英特尔Linux 基金会近期发布了轻量级的虚拟化软件–ACRN,其代码仅有大约 25K,具备高效的实时性和严格的安全性特点,并能通过开源平台不断优化功能设计,以确保未来汽车从底层到上层最大化满足整个系统的安全要求。
Intel provided a powerful hardware and software platform for automotive applications. Apollo Lake is a next generation automotive-grade chip family, features strong computing power and workload integration capability, and multi hi-res video output interfaces to meet the requirement of next generation e-cockpit. Plus ACRN – a lightweight virtualization software recently announced by the Linux Foundation, which has only 25K lines of codes, designed with real time and safety criticality in mind, and optimized with open source platform, which ensures future automotive can meet the security requirement of the entire system to the greatest extent from the bottom to the top layer.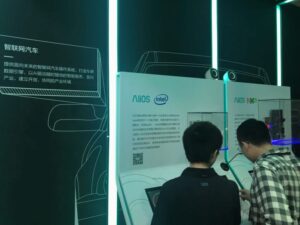 基于 AliOS和英特尔全新一代车规级芯片家族Apollo Lake研发的下一代电子座舱,将更多数字化内容引入座舱内,利用Apollo Lake处理器强大的计算能力和AliOS丰富的生态使电子模块部分从分立走向整合,大大提升人机交互和多屏幕的数字仪表/车载信息娱乐体验。通过基于ACRN虚拟化软件技术实现同时多个操作系统的区隔运行,使得各系统具有的不同特性能够满足于不同子功能的应用需求。
Next generation e-cockpit based on AliOS and Intel's Apollo Lake, the new automotive-grade chip family, brings more digital contents into the e-cockpit. With the computing power of Apollo Lake and enriched ecosystem of AliOS, the discrete electric module parts are getting integrated, which significantly improves human-machine interaction and the experiences with digital meters/IVI system with multi-screens. With ACRN virtualization technology, it runs multi-OS simultaneously with isolation, enables different features of each system to meet application requirements of different sub-functions.
英特尔无人驾驶事业部、汽车电子事业部中国区总监徐伟杰表示,"新的负载整合原来需要两颗芯片,一颗芯片控制娱乐系统,一颗芯片控制仪表系统,如今我们可以用一颗芯片通过虚拟化运行两个OS,相当于用一套硬件系统实现两种功能,这是下一代电子座舱的发展趋势,在整合中要求系统提供商在安全和虚拟化方面都有长期的积累。英特尔是全球虚拟化技术的先行者,我们的虚拟化技术最早在服务器上商用,我们在上海组建了100人的团队研发了ACRN虚拟化软件,希望在汽车领域提供计算能力和负载整合的服务,这是我们的技术优势。"
Mr. Andy Xu, Director of TSD from Intel China said: 'In the past, we need two chips for workload integration, one chip to control the entertainment system, the other one to control the meters system. Now we could use just one chip, which runs two OS through virtualization, that means implement two functions on one set of hardware, this is the trend for future e-cockpit. For such integration, it requires the system provider has long-term experience in security and virtualization solutions. Intel is a global leader in virtualization technology. We've commercialized virtualization technology first on servers, and we have a 100-person team in Shanghai who contributed lots of code to develop ACRN virtualization software, in hope to provide computing power and workload integration service for automotive industry. This is our technology advantage'.
在本次云栖大会上,ACRN就联手AliOS一起进行了"基于英特尔平台的ACRN+AliOS"的演示,向现场观众展示了两家公司强大的技术优势。使用英特尔全新一代车规级芯片系统流畅度更高、定制化度大大增加,同时,在原来系统的基础上就可以继续搭建新的应用,不需要重复去写代码。"
On this YunQi Conference, ACRN joined the demo with AliOS on Intel platform. Running on Intel Apollo Lake family of chips boast greater fluency and allows more customization for the system. Furthermore, there's no need to re-write codes, you can build new applications on top of the existing system.
与目前其他的开源hypervisor软件有所不同,ACRN™ 是一款特别针对嵌入式物联网产品设计的开源hypervisor参考软件。
Unlike any other open source hypervisor software existing today, ACRN is an open source reference hypervisor designed specifically for embedded IoT development.
ACRN是Linux基金会最新发布的一款灵活、轻量的虚拟化软件,满足汽车产品应用场景,其中英特尔为该项目提供了大部分的设计及代码,ACRN具备高效的实时性和严格的安全性特点,并能通过开源平台不断优化功能设计。
ACRN is a flexible, lightweight hypervisor recently released by the Linux Foundation and suitable for automotive application. Intel had significant contribution to the system design and code. ACRN was built with real time and safety-criticality in mind, and could continuously optimize its functional design through open source platform.
ACRN主要由两个部分组成:hypervisor软件和设备模型, 支持众多的I/O设备共享。英特尔公司在虚拟化技术上的丰富经验和领导地位在这个hypervisor解决方案的初期开发中起到了关键作用。
ACRN is comprised of two main components: the hypervisor and its device model, complete with rich I/O mediators. Intel's experience and leadership in virtualization technology was key to the initial development of this hypervisor solution.
在企业层面,开发人员将从ACRN获益,因为它具有小型化,实时化特点,足以灵活应对不同的应用场景并考虑到安全性关键业务。
From enterprises perspective, developers will benefit from ACRN's features such as small footprint, real-time performance. It's flexible enough to handle different use cases while talking safety-criticality into consideration.
对英特尔而言,目前,英特尔的架构已经可以支持市场上包括AliOS在内所有的车载信息娱乐操作系统。通过AliOS全面且丰富的本地生态系统,英特尔和AliOS将为更多的汽车厂商提供卓越的车内创新应用体验;对AliOS而言,借助英特尔在汽车电子领域的丰富经验以及先进的产品架构,拥有丰富生态系统的AliOS将大大提升车内人机交互和多屏幕的数字仪表/车载信息娱乐体验,从而更好地为汽车厂商提供一体化的整合信息娱乐系统和服务。
For Intel, IA already supports all in-vehicle infotainment operating systems in the market, including AliOS. With AliOS's comprehensive and rich local ecosystems, Intel and AliOS will provide more automotive manufacturers with excellent in-vehicle innovative application experience. For AliOS, by leveraging Intel's rich experience and advanced products in the field of automotive electronics, and its rich ecosystems, AliOS will significantly improve the experience of in-vehicle human-machine interaction as well as multi-screen digital meters and in-vehicle infotainment, so as to provide automotive manufacturers with integrated infotainment systems and better services.